Friday night at the Brooklyn Bowl, roughly 700 people got more than they bargained for. The bill for the night said F.Stokes and Slick Rick, nothing more. Not only was there a few extra bands involved, but it was a special show for the headline act.
As I wondered the floor before the show began, I heard people discussing which song they had hoped to hear. I can't tell you how many times I heard "If he plays Children's Story, I can die happy." They have obtained their ever lasting bliss and much more that night.
For the second time in a month, I have caught F.Stokes live on stage. I was pretty impressed the first time around, even though it was half way through his set. This time, I was able to watch him introduce himself to music fans unaware of his work. And he definitely has a way of doing such a haunting task. It takes an experienced performer to go in front of hundreds of people eagerly awaiting a hip hop legend. F.Stokes definitely filled that demanding role.
DJ Kaos
His style of stage play puts him right in the middle of the audience, literally at times. He doesn't rely on any types of gimmicks to captivate the crowd. He takes his experiences of growing up in the gritty, blue collar Midwest, as well as his travels along the way, and appeals to the intellect and humanity of his audience. He also has a way of making you connect to the wordplay of his music. During a song he dedicated to small town life, he reminded the audience that New York City, while being a major megalopolis, is nothing more than a large, squeezed together collection of small towns.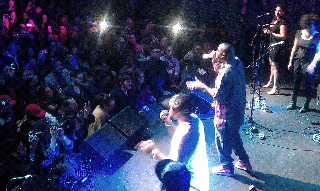 Following F.Stokes was the Lifted Crew.A 10 piece ensemble with an influence from all over the place was the perfect back drop for Slick Rick to do his thing. Before he came out, Lifted Crew blessed the crowd with a few of their joints. With a good level of harmonizing and just plain ol' enjoying their time on stage made for a good set. The crowd was awaiting the headliner but they managed to get the crowd moving.
When The Ruler finally entered the stage, the place went nuts. The crowd almost matched the sound system in greeting his highness with great excitement. He knew what the people came to see and did not disappoint. He played the classics that made him a household name, such as Hey Young World (one of my fav's), Mona Lisa, etc. When he performed A Children's Story, I looked out into the crowd and swore almost everyone was rhyming right along.
In between songs, folks were treated to a surprise. The show was a week prior to Slick Rick's birthday. The show stopped for a moment as a cake was brought out and folks could give their well wishes. It was a brief moment but made me feel as I was a part of the celebration.
After his set, a group by the name of Deathrow Tull was to close out the night. I always love live shows because you always seem to get introduced to new music. I was not disappointed with these guys. They have a very funky vibe with a let your hair down attitude. You could tell these musicians were having a ton of fun closing out the show. I'm not too familiar with their work but I look forward to getting to know them.
All in all, it was a great night to end the week with. Everyone that performed gave a great show and the crowd was open to what the night had to offer. Of course, when you get a little extra, you are a bit reluctant to be, well, reluctant. Speaking of a little extra, I walked away with a little more than I expected as well.
Thanks for the drop and happy birthday, Slick Rick!!